By
@
Jeff GS
Date
2007-08-01 00:57
Hey guys,
This is again something off the beaten path, but thought someone might find it helpful on their conversion?
I came across a guy that sells an adapter nipple that converts from 3/4-16 thread to 20mm x 1.5.
What's this for you might ask???  Well...  as you may know, if you want to remote mount your oil filter there are lots of remote filter mounts out there - just choose the one you like.  But... now you're going to have to switch to either a Ford or Chevy based filter type as that is ALL these mounts are designed to take.  This "may" be OK, but a lot of engineering goes into a manufacturers filter and indiscriminate substitution of another filter could potentially do some harm to your highly engineered Subaru engine.  Not to mention higher cost of the typical "high performance" HP1 or similar filters, or the stock-pile of OEM filters you've already bought.....
While there are plenty of remote filter take-offs that fit in place of the Subaru oil filter and provide plumbing outlets for either remote cooler, or filter, or both - I could not find a single remote filter mount that would
directly
accept the stock Subaru filter!  Nada.
But the little gizmo above takes care of that problem - it screws into the standard 3/4-16 Ford thread in the filter mount, but the other side is the OEM Subaru filter thread size.  Whammo - problem solved!
See ebay item number: 220133453411
Jeff
By
Mel Adjusted
Date
2007-08-30 07:07
At my age.. Everything I buy comes with a lifetime guarantee..
http://mel-adjusted.zoints.com/
By
@
Jeff GS
Date
2007-08-30 11:19
That looks like a pretty nice gauge adapter Lilgeico, I guess if you want to run additional (oil pressure and temp) gauges without using the original engine output ports for them?  I know the typical oil pressure senders are fairly large and space near the alternator mount is tight where the OEM oil pressure tap is, I may have to do some kind of extra plumbing to slightly remote mount the sender.  I've already re-tapped the Subaru pressure gauge port to 1/8NPT so other than space issues it's a direct hook-up.
Jeff
By
Mel Adjusted
Date
2007-08-30 15:41
I wish more people would post little tricks like you posted here to help in troublesome areas when using Subaru engines. I personally think the Subaru engine is one of the best choices for engines in buggy's and rails.
I finally got SCORE to allow me to run a turbo'd engine to race. My only concern right now is for someone like you or others to help me with a super light long travel suspension. I'm trying to keep the car under 1,200lbs.
At my age.. Everything I buy comes with a lifetime guarantee..
http://mel-adjusted.zoints.com/
By
charliew
Date
2007-12-24 06:25
Edited
2007-12-24 06:41
Jeff the way my son and I are running the oil pressure is to modify a banjo fitting to connect to a 1/8 npt tee in his case on the drivers side head before the restrictor in the head. This is between the timing belt cover and the head. On his sti it will also go to the avcs control. On a wrx motor there is a bolt plug in the oil port. It's the same size as the bolt in the banjo on the turbo oil feed on a wrx the only difference is the bolt for the turbo has a very small hole to restrict the amount of oil to the turbo. I had some extra banjo fittings from a twin turbo motor I am converting to wrx turbo type. I cut the line off that was soldered in the banjo and threaded it 1/8 npt and screwed a short 1/8 nipple in it and then a union to screw the sender into and it set over the driver side timing cover under the oil filler in it's own little space.

I also found on ebay a cooler/remote filter kit for the subie and it came with a honda s2000 filter which is a little larger than the subie filter but it will also take the subie smaller filter. It had 1/2 braided lines and everything except a thermostat for the cooler. I got it from <www.maxspeed-motorsports.com> It was a little expensive,but nice, I think 300.00 The thing that I'm concerned about is the 1/2 lines. The orfice at the oil pump and most of the ports are about 5/8 and I'm concerned about the restriction of the cooler, filter and lines lowering the oil volume. I have added a 12mm oil pump and I don't want to take one step back while taking two forward.

That ebay site, Glow Shift is the place where my son got his gauges and senders. I think his oil pressure also will turn on a light when he gets low oil pressure I am going to try to get it to blow a horn.

Charliew
By
@
Jeff GS
Date
2007-12-24 14:21
Hey Charlie,
Got any pics of how you modified the banjo?  That's an interesting idea for fitting an aftermarket gauge sender.
When I fitted my turbo for AN fittings I noted the restrictor oil feed opening in the OEM bolt and re-used it.
I've seen some people use the other oil galley access plug at the flywheel end of the block, but I've got a ton of PCV hardware in that area - so I'll have to work with the front/timing belt access port.  I may wind up running a short braided SS line for the pressure sender.  One of those pesky details to be worked out later!
Also, just the other day I came across another source for the oil filter adapter nipple.  Mocal makes a similar part - converts from 3/4-16 (Ford/Chrysler) to 20mmx1.5 (Subaru).  BAT Inc. in FL has these in their catalog if anyone is interested.
On the oil lines - I decided to step up to AN10 sizes on all my external oil hoses.  I'll be running an external filter + thermostat and cooler, pretty similar to the VW full-flow setup.  I've decided to run a perma-cool thermostat and Earls filter mount, both with 1/2NPT outlets.  Undecided on cooler brand at this point.
Cheers,
Jeff
By
charliew
Date
2008-01-08 06:58
Edited
2008-01-08 07:02
Jeff sorry for the late reply on the banjo fitting. I'm still not up to speed on the camera thing. The banjo's I used came off of the water lines on the tt motor I have. They have a 3/8 line soldered in them and when I cut the line off and started trying to tap the banjo on one the rest of the line came out. At that point I just tapped the banjo with a 1/8 npt tap and screwed a 1/8 pipe close nipple in it and then screwed a 1/8 coupling on the nipple. That left a 1/8 npt orfice to screw the oil pressure sender into. On mine the coupling and banjo touch with the nipple completely inside both.I think I remember the tapped threads went pretty deep in the banjo after the line came out. I may have sanded the banjo to a shorter length to get the threads to come out right. You can vary the length of the pipe nipple to raise the oil sender up if you want. I also made a 16 guage sheet metal bracket to go from the dip stick holding bracket bolt hole to go around the coupling below the pressure sender to support it to keep it from breaking. Just to be safe I welded the banjo to the coupling and the coupling to the bracket to make it stronger. It probably wasn't necessary because the 1/8 nipple was inside both the banjo and the coupling but it made it look like all one piece and will stop it from coming apart when I screw the oil sender out. It could really be put together with JB weld or soldered just to keep it from unscrewing when the sender is removed. I had to take the inside bolt out of the inside timing cover to get the cover to move enough to put the banjo bolt in. Luckily the top intake cam pulley had holes in it to get the bolt out. I think on the wrx I sanded the banjo bolt a little shorter to get it in also. I think it works really good, the sender looks like it is supposed to be there. Also if you run across any little oil strainers under the banjo bolts subaru has a service bulletin to remove them unless you are going to clean them on every oil change. These where used on the turbo oil feed and the acvs banjos. They are little strainers that are stuck inside the banjo bolts and can be pulled out when the bolt is removed. There's a thread on nasioc about it. Someday I will get around to pictures.

Something to be aware of is the heads have restrictors in the heads to control oil flow to the cams and lifters or buckets. On one head, the passenger side, it's in the front and the other, the driver side, it's in the back so this would be a restriction and might lead to faulty oil pressure readings. Look inside under the plugs and you will see them. On rebuilds I would recommend removing them and cleaning them. On older motors it's a small hole you can see but on my son's 04 sti it was a brass device that had a hole you can't see through so we removed, cleaned and reinstalled them.

Charliew
By
@
Jeff GS
Date
2008-01-08 18:14
Thanks Charlie, I think I've got the idea now.  I'll have to look for that plug you're talking about and visualize how the sender would work there.
Depending on how big the sender is (Autometer - which I don't have yet), it
might
fit in next to the alternator mount in the original location.  I was looking at that location the other day and thinking everything might just fit in there no-problemo!  Will have to see after I get the sender and try it out.
Another though I had is this: since I had to plumb the oil filter externally to fit the chassis I'm going to run the oil system pretty much the same as a VW full flow set-up - line out of the engine, through the filter, then to the thermostat, and onto the cooler.  Be pretty easy to plumb a T in the return side of the thermostat and mount the sender in there.  It would be reading pressure going back into the block, but maybe not quite as accurate as directly off one of the main galley feeds.  Still - another option I guess.
BTW, got my Earls remote filter mount the other day - nice piece!  And the adapter nipple works like a champ allowing the stock Subaru filter to be used!
Jeff
By
@
Jeff GS
Date
2008-01-08 22:44
OK - time for the money shots!
Parts and special adapter nipple - slightly smaller Ford 3/4" thread on top, larger 22mm thread on bottom: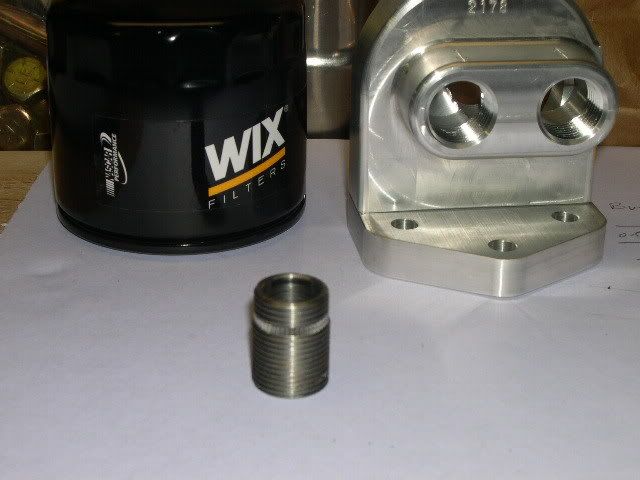 And all together with Subaru WRX filter: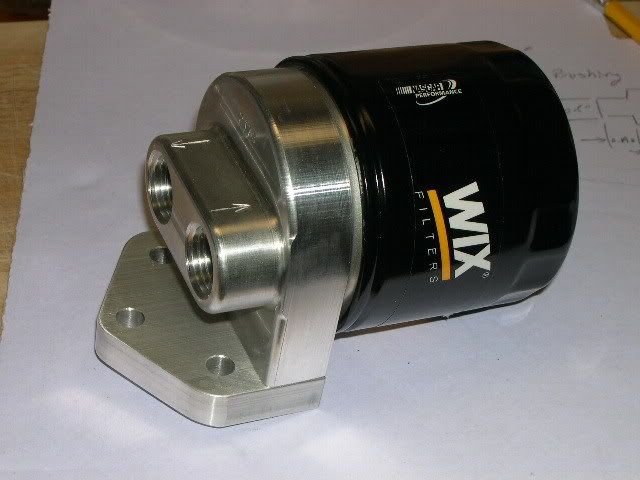 Jeff
By
charliew
Date
2008-01-09 17:18
Edited
2008-01-09 17:35
very professional looking, Another place to tap into the oil system is the oil gallery plug on the top of the block by the block breather, there seems to be some room there. I bought some 1/8 npt plugs that screw directly into those size holes. I can probably go back and find the supplier. It seems like they were about 10.00 apiece not including shipping. Some guage sender supplier on ebay I think.

By the way do you seperate the pictures into seperate folders as to what area you are working on on your project? I'm going to start my picture stuff soon.

Charliew
By
@
Jeff GS
Date
2008-01-10 12:49
Have to Charlie - my Deserter has got so much going on it's the only way I can keep the pictures somewhat organized!  For instance, I've got general chassis (as in the rebuild and modifications), front suspension, rear suspension, engine, transaxle, body, interior, plus original pics folder and a few other I can't think of at the moment.  Even these could be broken down further into "detail area" folders - but I figured I've already gotten enough folders to keep track of!
I've been keeping pics in 2 different packages, Shutterfly and photobucket.  I like the presentation and viewing in Shutterfly better - but it doesn't save the pics in .jpg format for linking.  Photobucket keeps the pics available for linking, but doesn't have the nicer viewing "presentation" when just looking at the pics.  For now, I'm primarily working in photobucket.   Shutterfly is kind of non-user friendly and sometimes a PITA to get working right!
Jeff
Powered by mwForum 2.10.2 © 1999-2007 Markus Wichitill
---