Hi Kirk
My experience with Disc brake conversions is with the later ball joint front suspension, and GM bolt pattern wheels on a buggy. Your link pin front may be a little different.
I too wanted to use (readily available) GM patterned wheels, but did not want the additional offset provided by wheel adapters as they push the wheels/tires too far out to provide fender coverage. The solution for me was to use rotors and drums drilled for the GM pattern. I purchased my drilled/studed rear drums from SO-Cal Autoparts. They are drilled blanks, rather than re-drilled stockers. They may be available from other suppliers as well.
The results are that my 16 x 8.5 Chevy IROC wheel/tire combo 'just about' fits under the fenders of my Manx. The IRC wheels have a 'non-standard' backspacing. The wheels I'm using in front have 5 ½" backspace, the wheels in the rear have 4 ½ " backspace.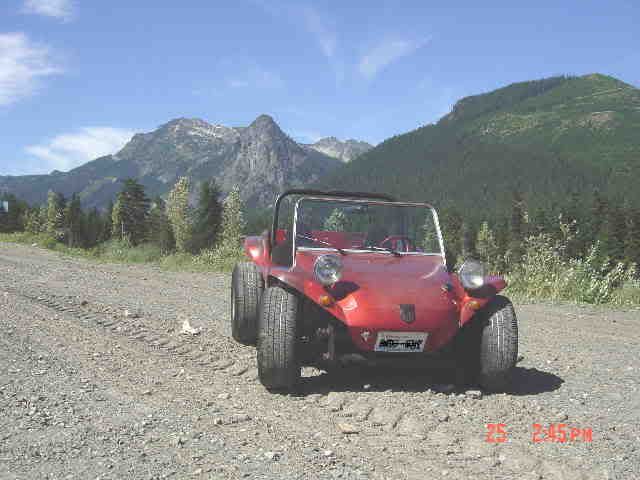 I installed Karmann Ghia front disc brakes that came installed on a used front beam. The rotors had been drilled for the GM pattern in the early 1980's. I also installed a new, stock VW Karmann Ghia disc brake master cylinder, which has a larger bore designed for the front discs. When I went for my first test drive I found the front brakes provided wayyyy to much of the buggies stopping, locking up before the back wheels. I solved the front/rear brake proportion by installing VW front wheel cylinders in the rear per the "Brakes" section of this article:
http://vwhelp.com/
I used the 68 & later backing plates (with wider brake shoes) on my 1966 short axle/SA. It worked great! Stopping is now quick & controlled, with the rears doing their share of the braking.
The only problem I have is keeping the rear brakes adjusted. As the pads wear the car develops a tendency to 'pull' to one side when brakes are applied. The front disc brakes are essentially auto adjusting.  I'm currently replacing the rear drum brakes with discs (with the ebrake option) since I'm to lazy to keep the rear drums adjusted. I will use the new '4 wheel disc' master cylinder from SO-Cal when I do the switch.
Rob