First of all, yep it's the earlier oval exhaust port motor, the basic difference being it doesn't have variable lift or timing, but it can work with the simpler EMS Stinger ECU like I'm using on my EJ22T.
A Mendeola is already part of the plan, either a 2D or S4, using the OutFront Bellhousing designed for the Mendeola transaxles.
It has quickly turned into a two phase project, first phase will be naturally aspirated, then at a later time a turbo and intercooler  will be added. The reason for the two different phases is the desire to use 91 octane pump gas, something that isn't possible with the stock 10.7:1 compression ratio and any amount of boost.
Supertech (
http://www.importperformanceparts.net/imports/supertechpistons-subaru.html
) makes a 8.5:1 ratio piston for the 3.0 which will allow turbo charging on pump gas. The guys at PDXTuning have a H6 build documented (
http://forums.nasioc.com/forums/showthread.php?t=959768
) using custom Supertech pistons with a 8.0:1 CR with boost pressures up 16 psi.
Phase two will be swapping out the stock pistons for the Supertechs' and mild boost though an intercooler. We are shooting for 300 hp n/a and 450+ hp turbo'ed.
A few pic's to get started...
New trigger wheel location for the H6, behind the flywheel.
A good "before" shot, at least I hope.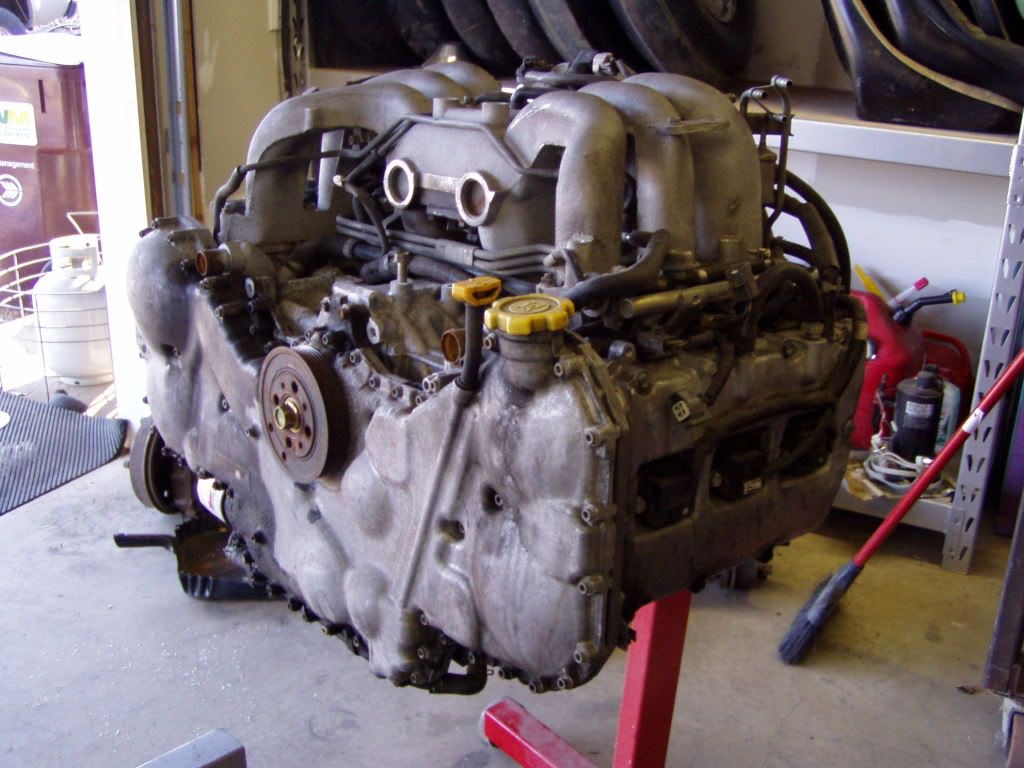 Tearing into the harness. If you look close you can see the new cam sensor location is left of the fuel rail