click on small images throughout the article to load larger pictures.
AERO BUGGY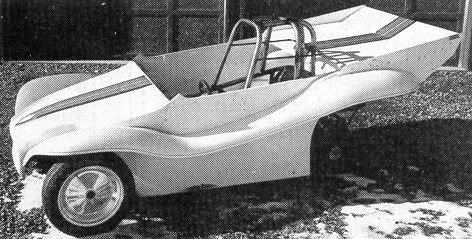 Possibly the first of its kind, Aero Buggy is a purpose built dune buggy designed for racing. Built by brothers, Scott and Mark Hannum, Aero Buggy was a culmination of experience. Mark Hannum is the founder and owner of Sewfine. If you are in the VW circuit, you've likely heard the name and undoubtedly seen their products. Scot Hannum was the assistant crew chief for John Force, and at the time Aero Buggy was built, Scott was employed at Bandimere Speedway in Denver Colorado.
Scott and Mark built many custom VWs during the 80s. Many of these collaborated builds were featured in prominent magazines, the likes of which included Dunebuggies and Hot VWs. The brothers also found themselves building a number of drag VWs due in part, to Scott's drag racing past. While employed at Bandimere Speedway, Scott started an event entitled the High Altitude Bug Fest. It has since changed names to the Colorado Bug-in which still runs each August.
What would have been July, just a scant 30 days before one of the annual Colorado Bug-in events, the brothers got a crazy idea to build and debut a VW drag car for the event. Their vehicle of choice? A fiberglass Dune Buggy, VW powered of course.
It was an undertaking that many wouldn't have considered, having built cars in the past, understanding how each one would bring their skill to the table, and already having an understanding of each other's strong points it seemed possible to pull off an impossible task. You see, when building a drag car, not only does the vehicle need to be built to sanctioning body standards of safety, engine displacement, weight, etc, but it needs to be built to the driver's standard as well. The car also has to be tested, tweaked, and dialed-in.
So it was with a spark of a crazy almost impossible idea, that Aero Buggy was born.
Aero Buggy was raced for a few seasons. Her best time was a 10:27 et. In 1986 during the Bug Fest, with Mark at the wheel, Aero Buggy fell victim to a crash ending her season.
At the same time, a gentleman by the name of Jeffrey Burnley was tiring of his eight-year background in racing Super Street. Jeff wanted something different, and was looking for something that had a smaller field and higher payback. Enter VW drag racing. Jeff contacted the Hannum brothers about buying the wreck.
It was time for Mark and Scott to discuss Aero Buggy's fate. As most vehicle nuts go, it is difficult not to upgrade when the opportunity presents itself. The wreck of Aero Buggy afforded the two a chance to do something different, and it was decided to divorce the body from the chassis, stretch the chassis and outfit it with a Porsche Speedster body for the '87 racing season.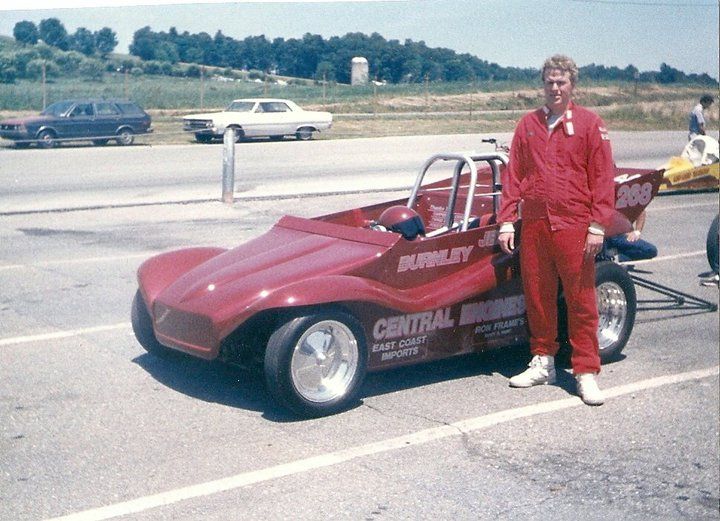 Since the Hannum brothers decided on plans for the chassis, a deal was struck for Jeff's purchase of the Aero Buggy body alone. This began Aero Buggy's second life, albeit with a new chassis under the body. The Hannum brothers crated the body and sent it overnight via common carrier van to the freight terminal at Pottstown, Pa. where Jeff took delivery.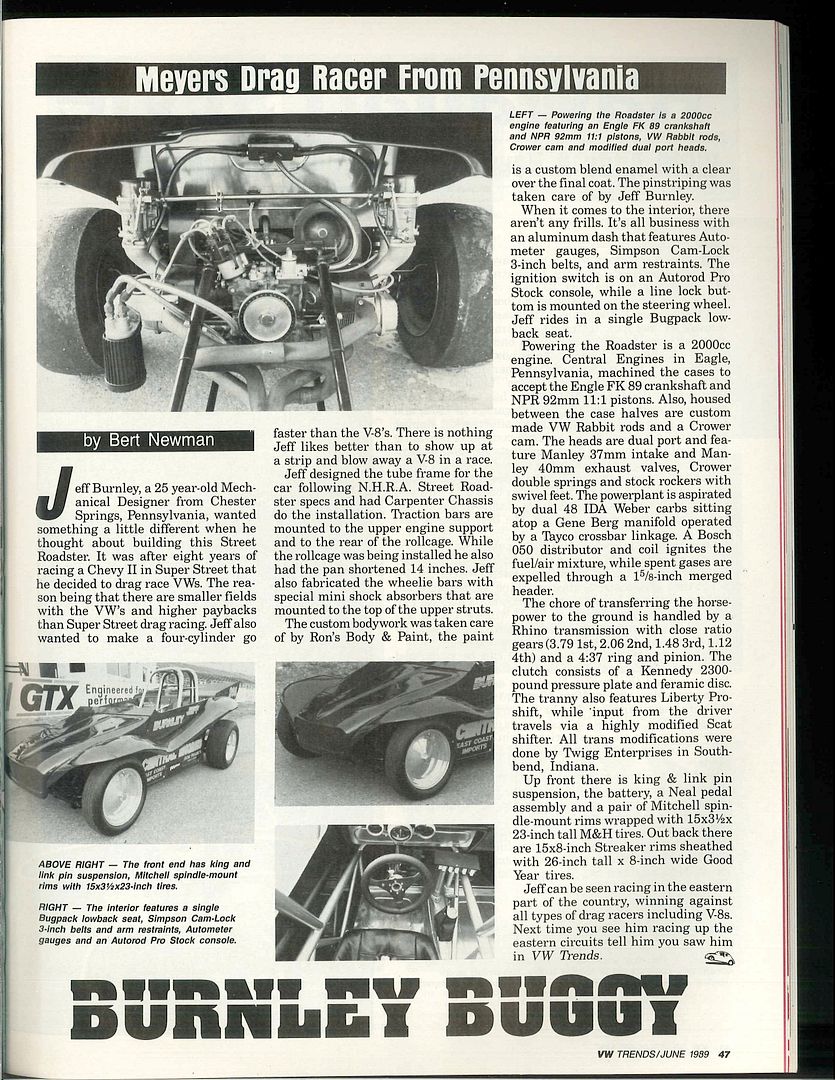 Jeff shortened a stock VW pan and contracted Dominic Carpenter of Carpenter Chassis in Pottstown, PA to fabricate the tube chassis cockpit. Dominic also welded the cage to the shortened pan.
According to Jeff, the body had been repaired by Scott prior to shipping and needed only minor repairs to ready for paint. Ron frame of Ron Frame Auto Body prepared both the body and chassis for paint. The chassis was painted silver and the body was painted GM Deep Maroon.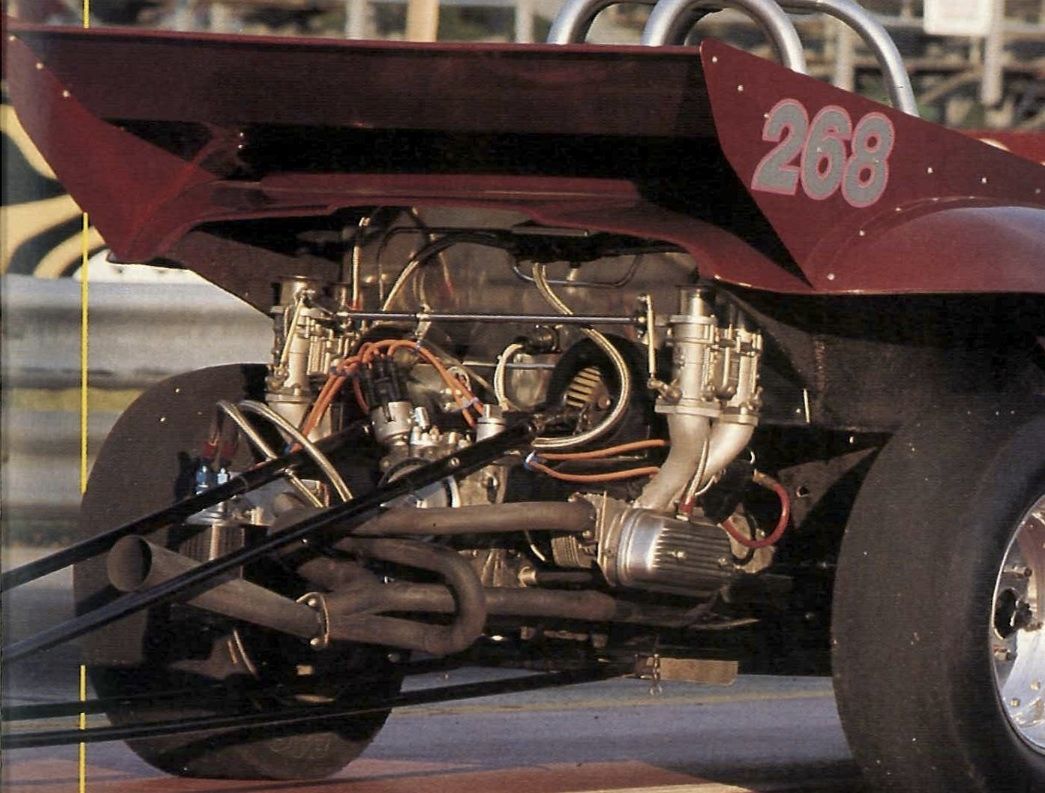 In the mean time, Central Engines prepared a 2000CC engine utilizing custom VW Rabbit rods. She was now becoming a Pro Class drag car. She was again the subject of a magazine spread. This time around, Aero Buggy was featured in VW Trends (June 89).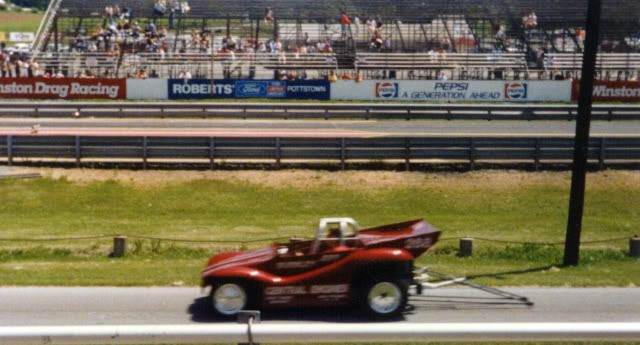 Jeff raced her for several years and pulled out some impressive wins. He sold the buggy outright to some gentleman from Puerto Rico. Aero buggy was delivered to north Jersey where she was loaded onto a shipping container where she was headed to Puerto Rico.
As of this writing, no one knows exactly where Aero Buggy is now. After all, that was 20 years ago. If you are reading this and know something about Aero Buggy please send an email: dunebuggyarchives.jay@gmail.com to update us.
Official DBA Aero Buggy Gallery
---